POE, Edgar Allan. Tales of Mystery and Imagination. Illustrated by Arthur Rackham. London: George G. Harrap & Co., Ltd., 1935. Quarto, original full vellum gilt.
Signed limited first edition, number 322 of 460 copies signed by illustrator Arthur Rackham. With twelve mounted color plates, seventeen black and white plates, numerous in-text drawings, and wonderfully frightening decorated endpapers. Included among the 25 Poe tales are such classics as The Tell-Tale Heart, The Cask of Amontillado, The Pit and the Pendulum, The Fall of the House of Usher, The Murders in the Rue Morgue, The Purloined Letter. Without original slipcase. A fine copy, rare in this condition.
Illustration from The Pit and the Pendulum: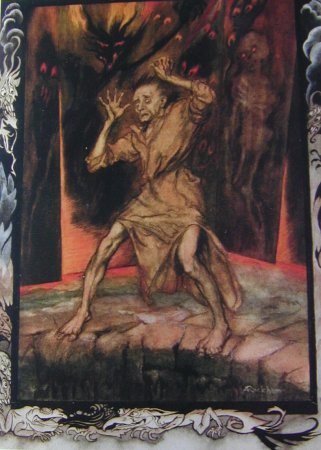 B-A Note: Many thanks to Mlle. Ghoul for sending me the link to this. It's gorgeous!